Best Santorini Boat Tours & Sailing Cruises
Home >> Santorini Travel Guide >> Best Santorini Boat Tours

Are you planning your vacation in Santorini, Greece? Find everything in advance about your vacations with our Santorini travel guide! Discover the best things to do in Santorini, its wonderful volcanic beaches, the best Santorini hotels as per location, the top restaurants with local cuisine, and a wide variety of breathtaking photos of Santorini!
---

Santorini Sailing Tours
The Santorini caldera boat tour is simply wonderful experience. It is a must-do and on the top of the list of the best things to do in Santorini. Still haven't decided? Well, this article will help you to help you decide which is the best boat tour for you.
First, don't worry too much about which tour or cruise you book – they're all excellent. Emphasis should be on which is the right one for you and then on booking in advance since they tend to be selling out fast.
To decide, you should consider three different facts:
1) Price
2) Visited Places/locations
3) Service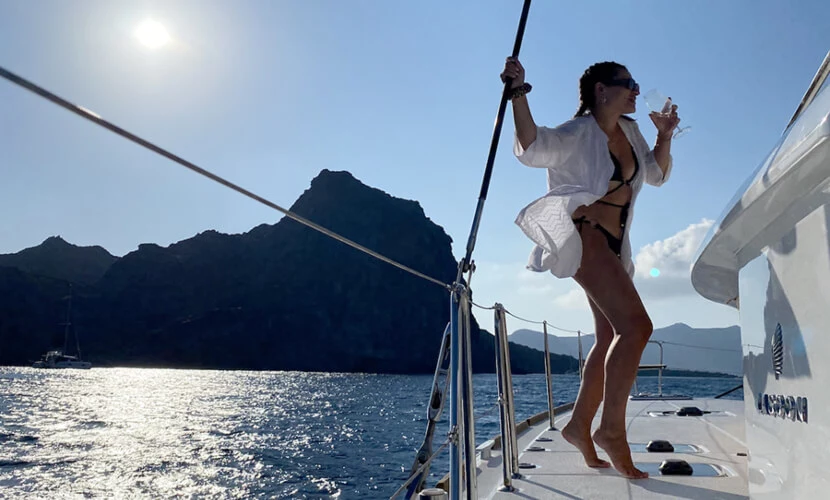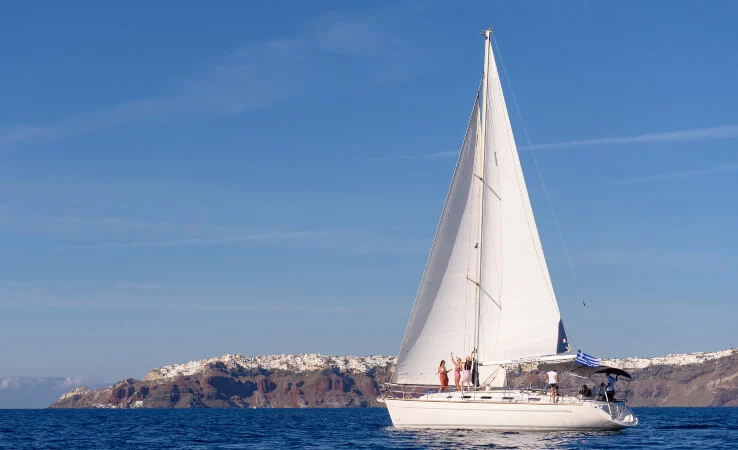 The cheaper the boat tour is, the more passengers it will have on the boat, catamaran or yacht. The inexpensive ones tend to have more than 45 passengers on board, and most of them visit the volcano and the warm springs, and they are conducted either on a boat or a big catamaran. As the price increases, the number of passengers you will share on this cruise will decrease, ranging from 14 to 22 for the semi-private Santorini catamaran tour and up to 10 if you have your Santorini sailing cruise in a monohull yacht.
By and large, all these Santorini boat tours and cruises are visiting the same places. Some of them have an inverted itinerary, depending on the starting location, and choose different spots for their main stops. Most of them pass by or even stop at the Red and white beach, the volcanoes, and the warm springs, while others stop in fewer crowdy places to have a different experience.
The quality of service received on board is a matter of the price you will pay; nevertheless, you will have at least a buffet meal and a pickup and drop-off service in most cases. The catamarans have more space on board, while a single hull has a better sailing feeling.
---

Most Famous Landmarks
The famous uninhabited volcanic island of Nea Kameni
This is where you can walk up to the volcano crater and experience the otherworldly volcanic landscape. Not all tours include Nea Kameni, so pick the suitable one if you want to hike the volcano. You should note that it can turn boiling during the high season.

The thermal springs at the uninhabited island of Palea Kameni
A relaxing swim near the thermal springs. Most tours include this stop. Take note that the sulfur waters can spoil your swimming suits, so make sure you will be wearing your old ones.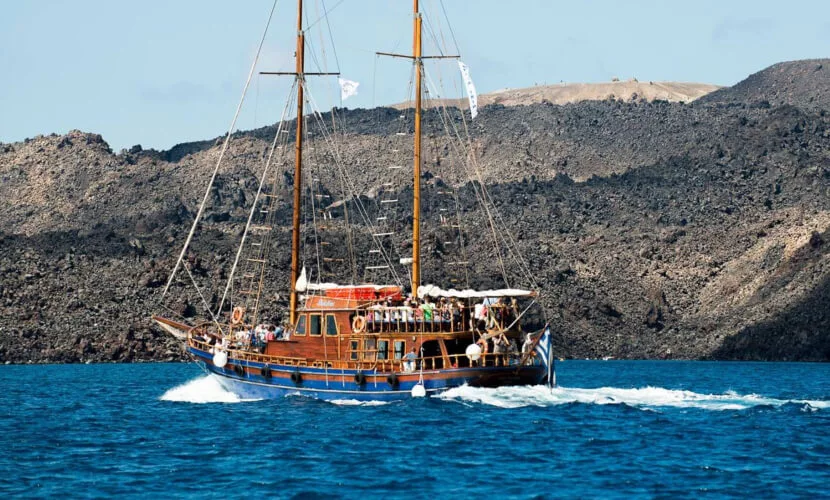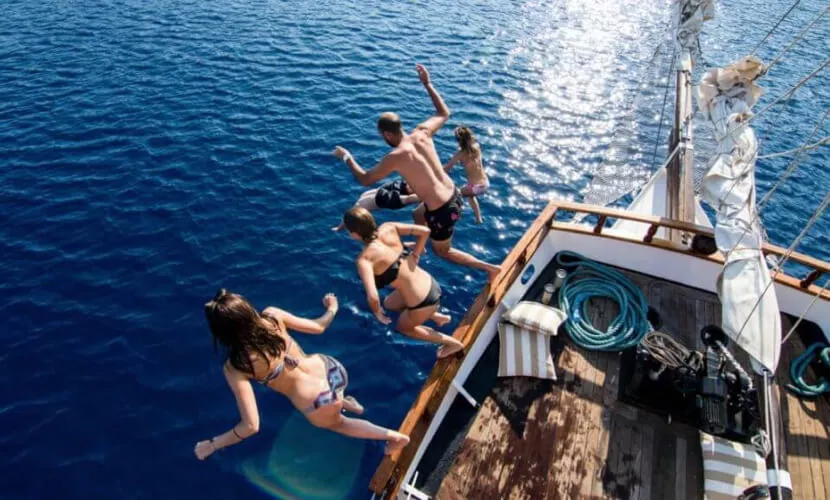 The island of Thirassia
A small island was once part of the Santorini, which was separated after the volcano eruption. On some of the Santorini boat trips listed below, you will have plenty of time to explore Thirassia, go for a relaxing swim or enjoy a Greek meal.
The Red Beach and White Beach
These picturesque spots are popular for swimming and snorkeling and are included in most boat trips. Most boats will provide snorkeling equipment, and some will even provide towels, but it's best to ask in advance.
The islet of Aspronissi
Some cruises sail to the small island of Aspronissi. You can see Santorini and the volcanic islands from a few different and unique angles.
---

Santorini Boat Tours: Conclusion
If you are traveling on a budget then you can go for the Santorini Volcano Boat Tour or the Santorini Volcano & Thirassia Sunset Dinner Cruise for a price of 45 Eur and 85 Eur respectively.
If you are looking for less people, then our Santorini Catamaran Cruise & our Sunset Catamaran Cruise are both a perfect option at prices between 110 Eur and 160 Eur depending on the season and the time of the day you take the cruise. Sunset cruises are more expensive.
Last but not least, if you are looking for something more authentic with even less people, you can check our Semi-Private Santorini Sailing Tour at a price of 155 Eur per person.
We also do operate private cruises!
> Browse all our Santorini Sailing Tours <