Best Restaurants in Athens
Home >> Athens Travel Guide >> Best Restaurants in Athens

Greek cuisine is a lot more than souvlaki, gyros, and moussakas. It consists of a wide variety from traditional pies, fish and meat plates, salads, and mezedes, created with fresh ingredients and lots of imagination.
The dining scene in Athens can satisfy both the local and international public, offering high-quality plates and attention to the detailed ambiance. From gourmet and elegant to all-time classic choices, this is our mouth-watering list of the best restaurants in the center of Athens that we love to visit.
---

The Best Athens Restaurants
This is our "No1" restaurant in Athens. This old mansion, with the breathtaking view to Acropolis from the roof terrace (make sure you reserve a table there), lies under the shade of the temple of Hephaestus on the picturesque Adrianou street. Based on Modern Greek cuisine, with lots of choices for vegetarians, the inspired menu of Kuzina combined with the cozy atmosphere and the unique view makes it a true success!
Adrianou 9, Thissio
– Location on
Google Maps
If you want to treat yourself, visiting a multiple awarded restaurant, don't miss this unique gastronomic experience. Starting from the building itself, a neoclassical house in the heart of Athens, with three dining areas and a charming patio, Aleria turns into a relaxing setting for tasting Modern Greek Cuisine. High-quality seasonal ingredients and inspiration from traditional recipes are all made with passion and creativity. An extensive wine list with selected labels contributes to the whole fantastic experience!
Megalou Alexandrou 57, Metaxourgio
– Location on
Google Maps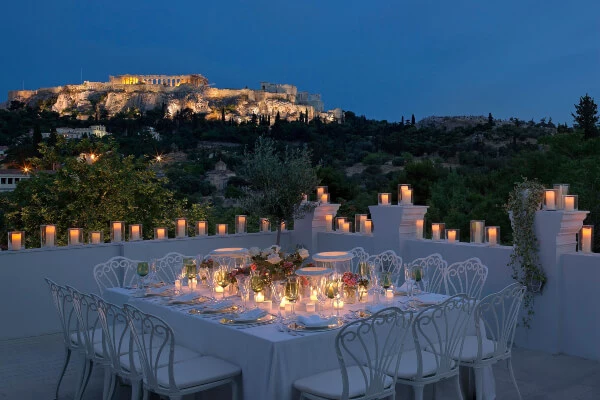 Kouzina Restaurant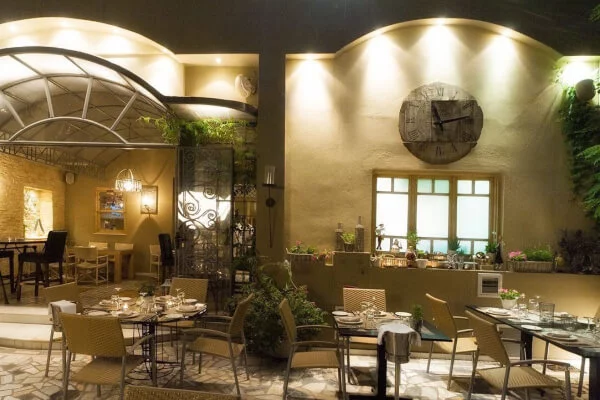 Aleria Restaurant
This modern, cosmopolitan restaurant in the heart of Athens has been operating since the 1920s when it first started as a humble taverna in Piraeus. The memories and flavors of family recipes are still the inspiration of its creative Greek menu. A cozy environment and unbeatable service are, of course, included. In our opinion, this is the place for the best seafood in the center of Athens. Extra tip: don't miss the tuna tartar, and their tarama is honestly the best in town!
Vrasida 13, Hilton area – Location on
Google Maps
Step inside this neoclassic Bauhaus building and go directly to the charming backyard, where you can order from a large variety of culinary delights from the Mediterranean cuisine or choose some of the unique daily dishes. The menu starts from tasty tapas to more gourmet dishes, all made with fresh ingredients and imagination. This restaurant also provides a large selection of wine labels, beers, and cocktails. Affordable prices and high quality of service as well!
Valtetsiou 51, Exarchia – Location on
Google Maps
This little local family-owned taverna is a rare exception to the classic touristy restaurants of Plaka. Food is homemade, the baked eggplant is exceptional, and the grilled sardines and stuffed cabbage with white sauce a must-try! Reasonable prices and genuine Greek hospitality come with perfect service. During summertime, reserve a table on the marble-paved street and enjoy a colorful parade of tourists passing by and locals visiting the next door chapel. Possibly one of the best traditional restaurants in Athens.
Kydathineon 21, Plaka
– Location on
Google Maps
Great spot, amazing location, just opposite the Acropolis Museum. This all-day bar restaurant is our favorite place to meet with our friends. Nicely decorated, a combination of retro and modern style gives a relaxed and elegant result. The cuisine is Greek and French style with a vegetarian-friendly menu. Incredible cocktails and an excellent choice for breakfast as well. The service is very attentive and professional. Little bonus: a treasure chest full of fresh-baked rolls.
Makrigianni 17, Acropolis – Location on
Google Maps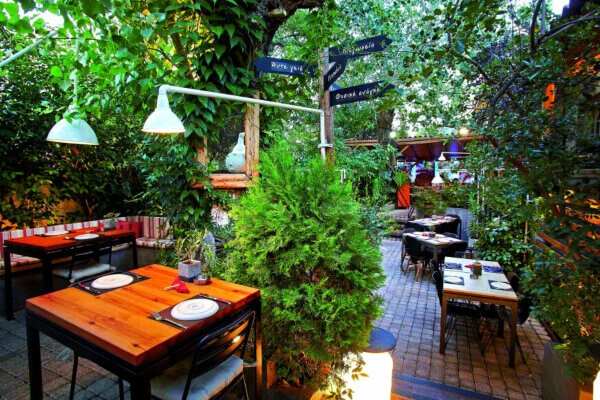 Yard All Day Bar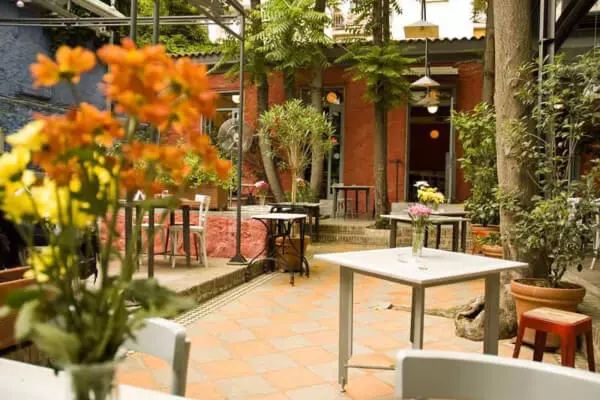 Yiandes Restaurant
Hidden in a secret garden, minimal architecture, creative decoration, and ample open space make the area's first impression a big surprise. Apart from the fantastic cozy atmosphere, this reasonably priced restaurant offers glorious food! Super fresh ingredients, intense flavors, Mediterranean cuisine with a twist, and they also serve some vegan courses. The staff is friendly and knowledgeable. It is strongly recommended for any occasion, business lunch, or family gathering.
Valtetsiou 44, Exarchia – Location on
Google Maps
This very cozy, open kitchen restaurant is located in a beautiful square at the center of Athens, filled with locals. It manages to mix a relaxed young vibe with tasting Modern Greek cuisine. The food is well cooked and the dishes nicely decorated. Here you can taste unique products, such as cheese, coming from different places in Greece. Make sure that you reserve a table early, since it is trendy and crowded all the time.
Keramikou 49, Metaxourgio – Location on
Google Maps
This is a great vegetarian spot in the center of Athens with a cozy ambiance. The staff is amiable and helpful. You don't have to be a vegetarian to enjoy their delicious food, which is beautifully presented, very fresh, and it comes to significant portions as well. They offer excellent fresh juices and a wide variety of dishes to choose from for vegetarians, vegans, and people who avoid gluten. If you choose the upper floor, you will sit on pillows like in a Japanese style!
Nikis 30, Syntagma – Location on
Google Maps
If you want to try some local cuisine, book a table at this restaurant that offers reasonably priced authentic and good Greek food. It is located in the vivid area of Psirri, in the heart of touristy Athens. However, you will still see many locals dining there since the food is tasty and fresh and the portions are pretty generous. The service is beyond what you expect, and on Saturdays, there is live Greek music. The menu has marked vegetarian and gluten-free options!
Aisopou 17, Psirri – Location on
Google Maps