Best Beaches in Athens
Home >> Athens Travel Guide >> Best Beaches in Athens

With pebbles or sand, with shallow or deep waters, with vegetation or without, organized or with free access, the beaches of Attica offer the necessary feeling of coolness and relaxation to the residents who have not packed their suitcases to an island.
Here you will find all the information you need to know about your dives a few kilometers away from Athens city center.
1. Akti tou Iliou
The most accessible getaway for Athenians who need a quick dive is the coast on the Attica Riviera. Palm trees, pebbles, and sand compose a dreamy landscape, including a beach bar, restaurants, and boutiques with beach items for last-minute visitors. Sunbeds and lifeguards are included, and beach fun is enhanced by sea activities.
Info: Leoforos Poseidonos - Alimos, www.aktitouiliou.gr - Location on Google Maps
2. Yabanaki
With more than twenty activities, from windsurfing to beach volleyball and specialized fitness events, Yabanaki is one of the best-organized beaches in Attica. Large sandy beaches with shallow and calm waters, sunbeds, and wooden beds take visitors to an island setting. When you are hungry, your choices are many, from Italian cuisine, juicy souvlaki until very late at night, and snacks and coffee throughout the day.
Info: Akti Varkizas, www.yabanaki.gr - Location on Google Maps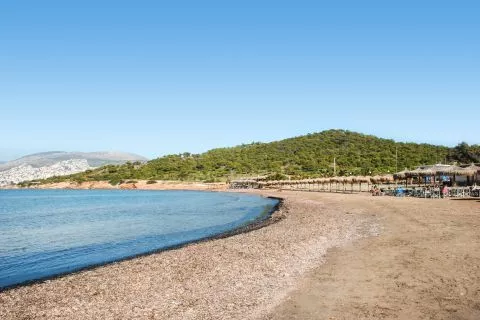 Kavouri Beach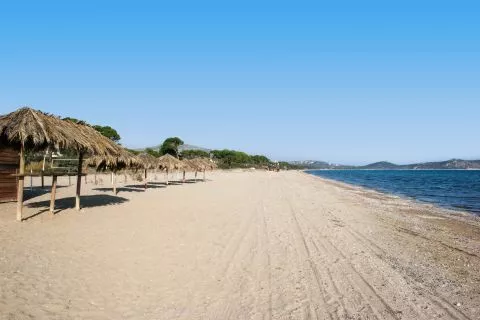 Schinias Beach
3. Kavouri
Kavouri is a small peninsula just before Vouliagmeni, with many beautiful small or more extensive beaches, where you can sunbathe for free! A lot of Athenians prefer it for their summer baths and relaxation. Just 10 km from the city center, it combines clear waters and primarily young people. Some cafes and restaurants complete this beautiful setting.
Info: 10 km from Athens city center, 20 min drive by car. - Location on Google Maps
4. Schinias Beach
Schinias Beach is well known to Athenians for its beauty. Choose "Karavi" and "Del Mar" for your swimming. Palm trees, flowers and pergolas, reasonable prices on sunbeds and umbrellas, plenty of coffee bars, watersports, and sea activities makes it an ideal spot for young people (of all ages). For food, we also recommend Marathon, where you can find good fish restaurants. Don't forget to pay a visit to Lake Marathon.
Info: 43 km from Athens city center, 40 min drive by car. - Location on Google Maps
5. Porto Rafti
Our suggestions for Porto Rafti are Erotospilia, Agia Marina, and Avlaki, where you will encounter a small bay with caves and sandy beaches. Especially in Agia Marina, the waters are apparent. For the sports fans in Avlaki, there are basketball, beach volleyball, and soccer fields. You will also find several canteens and a beach bar with snacks, while in the taverns you will eat good fish food. If you want to see more, visit ancient Drivlia and its picturesque harbor.
Info: 44 km from Athens city center, 50 min drive by car. - Location on Google Maps
6. Kakia Thalassa - Keratea
Just 50 km from the city center, this place has it all, and it's worth it! It is a fully organized beach (from umbrellas to basketball courts), without entrance fees and clear waters. The beach consists of fine pebbles outside and sand inside, but beware; it has much rubbish when the wind is north. If you are still looking for attractions, visit the Cave of Kitsos, an open cave used from the Paleolithic era.
Info: 52 km from Athens city center, 1-hour drive by car. - Location on Google Maps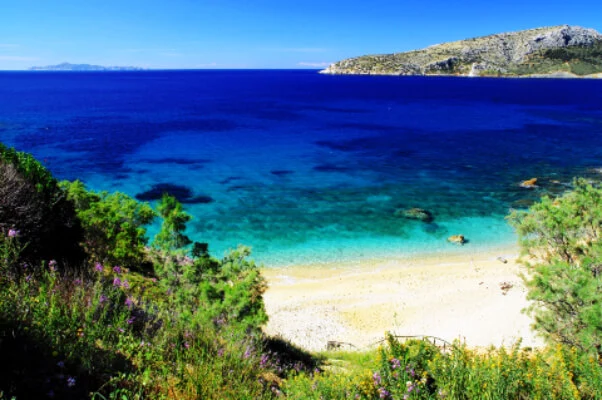 Legrena Kape Beach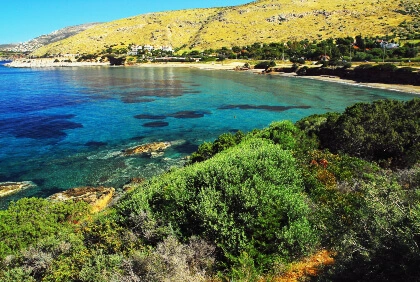 Thymari Beach Anavyssos
7. Legrena – (beach ΚΑPΕ)
If you have never visited this beach, you can't understand what we are talking about. It is as if you magically landed on a Greek island with crystal blue waters and lovely sandy beaches. The truth is that it will be difficult to find this beach because it is not visible from the road. Fortunately, after the settlement of Harakas and just before Sounio, there are several taverns with helpful owners that will guide you to the road where you will find the sign "Ownership of KAPE." Go down the hill, and you will find yourself in front of a beautiful beach with fine pebbles. We recommend visiting this place quite early since it gets crowded in the afternoon. For food, you will find many taverns with fresh fish food nearby.
Info: 63 km from Athens city center, 1 hour and 15 min drive by car. - Location on Google Maps
8. Thymari - Anavyssos
This beach has effortless access; it is relatively close (shortly after Old Fokea, on the road to Sounio) and has shallow and clear waters. A part of the beach is organized with sunbeds, umbrellas, and a beach bar so that you don't miss anything. We are probably talking about the cleanest waters of Attica, 55km from the center of Athens and one of the most pristine beaches. Nice sand, infinite space for rackets, but without cafes and taverns, that is everything you need for a relaxing getaway.
Info: 55 km from Athens city center, 1 hour drive by car. - Location on Google Maps
9. Porto Germeno Beach
Porto Germeno is the only beach on the list, which is situated on the western side of Attica, watered by the Corinth Gulf. If you are looking for a quiet destination close to Athens city, you should seriously consider this beach. You really won't need more than an hour and a half to get there. The road is relatively easy and only takes a few turns in the last half hour until you go down the mountain and reach the sea. It has lovely taverns and clear waters
Info: 65 km from Athens city center, 1 hour and 15 min drive by car. Location on Google Map
10. Chamolia Beach
A beach located near Porto Rafti, about 39km from Athens. A completely free and nudist-friendly beach where you will find neither umbrellas nor sunbeds. It is not of the most famous Athens beaches, so relax and enjoy the tranquility in the shade of the pine trees surrounding the beach. The crystal clear waters will make you feel like you are in a land far away from civilization. Driving on the road connecting Porto Rafti with Loutsa signs will lead you in the right direction.
Info: 45 km from Athens city center, 45 min drive by car. – Location on Google Map